Dutch Star's line of hot-rolled strip steel includes forming and structural grades, heat-treatable steels and advanced and high-strength low-alloy steels. All are specially designed for specific and demanding applications
Heat-treatable steel
Dutch Star B.V offers a choice of hot-rolled heat-treatable steel. Its chemical composition and the production processes we employ ensure robust, consistent products. Our case-hardening steel is suitable for wear-resistant components that must bear extreme fatigue stress. Our high-carbon grades supplied in the 'as-rolled' untreated condition can be processed to meet specific requirements.
Overview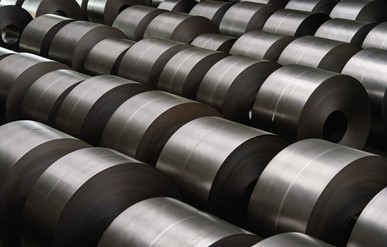 Case-hardening steel
Case-hardening grades provide excellent formability and good punching quality. Our case-hardening steel is suitable for wear-resistant components that must withstand extreme fatigue stress.
High-carbon steel
Hot-rolled high-carbon grades, supplied in the 'as rolled' untreated condition, are suitable for cold rolling to reduced thicknesses. They are often heat-treated to give the final mechanical properties required for the intended application. We offer five high-carbon grades to meet your processing needs.
Dutch Star B.V offers a comprehensive range of cold-rolled steel comprising both continuously-annealed and batch-annealed products.
This means we can tailor our offer to meet your precise requirements for formability, strength, surface finish or flatness.
Cold rolled steel: consistent, reliable products
Our advanced and ultra-high-strength cold-rolled steels are lightweight and enable design freedom for complex parts. Their high yield and ductility ensure shape accuracy and tolerancing, which enable thickness reduction and maintained in-service performance for difficult-to-form parts.
Overview
Coupled with consistent quality, our wide product selection provides opportunities for you to optimize both your products and processes. The benefits of our cold-rolled steel include:
consistent and reliable end product quality
lighter and stronger products
repeatable, trouble-free processing
maximised yield
reduced waste and rework
Applications
Bathtubs
Construction and building components
Domestic appliances
Drums and pressure vessels
Electrical goods
Electrolytic coating
Feedstock for galvanizing and coating
Furniture
Radiators
Tubes and sections
Grades
This section of the catalogue shows the grades of cold-rolled steel offered by Dutch Star B.V. These include advanced high-strength steels, high-strength steels and grades for enameling and forming.
Supply – product conditions
We supply cold-rolled steel in the following conditions:
annealed and skin-passed
full hard
sheets, discs and slit wide coil
Dutch Star B.V produces cold-rolled and annealed strip by either the  continuously-annealed (CA) or batch-annealed (BA) processes